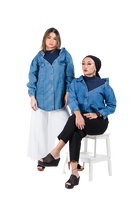 #loveninazazali
Fashion is an art form that can help exude the charm and confidence of the wearers through clothing. At Nina, we aim to provide the best apparels to meet your expectations.
SHOP NOW
WHAT OUR CUSTOMERS HAVE TO SAY
Nina and her team are simply amazing!!! Hardworking, friendly & efficient! All apparel are affordable, super comfy, & awesome quality! Delivery is always a breeze without any hiccups.
A super friendly seller and was patient to all her buyers. Always giving advice and alternatives. The items are superb, good and comes in immensely pleasing packaging.
Yesterday I received my first package from Love, Nina Zazali. Being a first time buyer, it really didn't disappoint me to purchase from you. I love the dress so much and the quality is Superb! Thanks for bringing the best to us.